Protecting You / Advocacy for Our Members & Profession 
NYSNLA is ever vigilant!  Every day, NYSNLA fights and supports New York State's nursery and landscape professionals, and the businesses and communities they connect. 
NYSNLA is your voice across New York State government—from the Governor's Office and Executive Departments to the State Legislature. State leaders recognize NYSNLA as a valued source of information and guidance on green industries. Our collective voice ensures that the needs of nursery and landscape professionals is heard.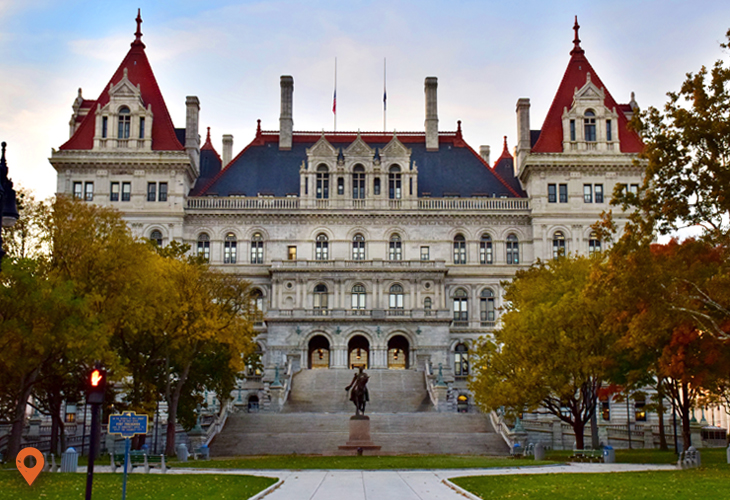 Through the work of our Advocacy Committee, here is a rundown of how NYSNLA protects its members and our industry. Here is how your NYSNLA dues are working for you both publicly and behind-the-scenes: 
Our Partners in Advocacy 
Your dues pay for membership and participation in the Council of Agricultural Organization (CAO), which includes:
NYSNLA President, Advocacy Chair & Executive Director spend a full day with leaders of dozens of agricultural & horticultural organizations across the State to develop a 75 - 100 page book of policy recommendations sent to the Governor each year for consideration in both the annual state budget and management of statewide programs and agencies like Ag & Markets and the DEC.
CAO submits this policy document to the Governor each year on behalf of all organizations on the Council.
CAO has a Lobby Day each winter to address the State Senate and Assembly members to reinforce the policy recommendations made to the Governor. 
Your dues pay for membership and participation with the New York State Farm Bureau as an Agricultural Alliance Member:
Advocacy Chair and NYSNLA Office receive regular updates from NYS Farm Bureau on statewide issues affecting our industry. These updates are shared with our members.
Farm Bureau Executive Director Jeff Williams assists NYSNLA in drafting letters and contacting appropriate policy makers regarding specific issues or items of concern.
NYS Farm Bureau assists NYSNLA in creating e-mail call-to-action campaigns for our members and directs results to appropriate policy makers.
NYS Farm Bureau facilitates meetings, conference calls, and other correspondence between NYSNLA Advocacy Committee and President and heads of important state agencies or legislative committees.
NYS Farm Bureau has been assisting NYSNLA in the development of a comprehensive  Advocacy Program for our association over the past 4 years.
NYSNLA Board Directors participate in the two-day NYS Farm Bureau Lobby Day each year which includes meeting with specific lawmakers regarding impending legislation that affects our members.
NYS Farm Bureau also develops extensive policy and budget recommendations for the Governor's approval for funding of programs and agencies that support our industry. 
Your dues pay for membership and participation with the New York Green Industry Council (NYGIC):
NYGIC has full time lobbyists on staff watching legislative issues that impact our industry and advocating on our behalf.
NYGIC sends regular communications to the Advocacy Committee and NYSNLA Office regarding hot button issues impacting our members.
NYGIC coordinates calls-to-action and coalitions to oppose harmful legislation. 
In Addition
NYSNLA's Advocacy Committee has developed strong relationships with contacts within the Department of Agriculture & Markets, including the Head of Plant Division, and Department of Environmental Conservation, to discuss issues that affect our industry and remain up-to-date on current policies.
About the NYSNLA Advocacy Committee 
The NYSNLA Advocacy Committee is comprised of all the active Past Presidents of NYSNLA and is chaired by NYSNLA President Melissa Caggiano. The Committee meets regularly via video conference. Policy direction and position recommendation reports are submitted to the NYSNLA Board of Directors at each quarterly meeting for approval before they are enacted.
Make Your Voice Heard!
Advocacy is everyone's job. Please make your voice heard on issues affecting our industry by telling your State Legislators where you stand.
Not sure who they are?
Click here to Find Your Assembly Member
Click here to Find Your Senator