NYSNLA Newsletter - Excelsior Green
The new NYSNLA Newsletter, Excelsior Green, is the official publication of the New York State Nursery and Landscape Association. Each issue of the newsletter contains useful, relevant and timely information for members and green industry professionals across New York State.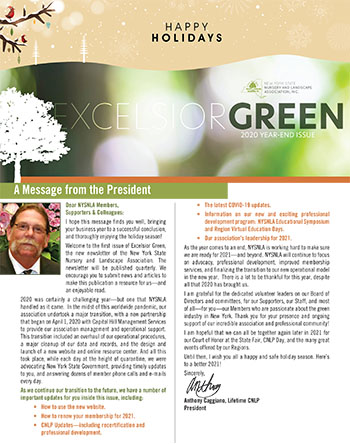 Check out the inaugural issue of our new newsletter!
If you have an industry-related article appropriate for the magazine, you may email submissions to [email protected] for consideration.
For more details, contact the NYSNLA State Office at (518) 580-4063 or email [email protected].
NYSNLA and the editors of the newsletter reserve the right to edit any article for grammar or space limitations, as well as the right to refuse any submission.